On this page you will find:
Important Documents
Protecting your Property
Preparing Firebreaks
PPE (Personal Protective Equipment)
Equipment
Training
---
---
For more guidelines and tips on protecting your home and property from veldfires please see the and the
---
Fire Brigade Vehicle Access
4m road width

10m road width where 90 degree turn is required
25m turning circle
4.5m tall clearance
Person available to unlock gates, and disable electric fences and gates
Preferably more than one way in and out (river crossings!!)
WATCH OUT for anchor ropes in orchards & vineyards and from Eskom & Telkom poles!!
---
Check Protect Survive (TM)
Vulcan Wildfire Management is one of our recommended service providers. FPA members get preferential rates.
Visit their website www.vulcanwildfire.co.za for:
Information on Check Protect Survive (TM)
Assessments and Integrated Fire Management Plans for properties
---
The National Veld and Forest Fire Act states:
The owner has to prepare firebreaks on all boundaries;
Agree with his/her neighbour to move the common firebreak away from the boundary;
Apply for excemption from the Minister; or
Not prepare firebreaks and be deemed negligent.
With due regard to the weather, climate, terrain and vegetation of the area the firebreak -

must be wide and long enough to have a reasonalbe chance of preventing a veldfire from spreading to or from neighbouring land;
may not cause soil erosion; and
must be resonably free of flammable material capable of carrying a veldfire accross it.

The right or duty to prepare and maintain a firebreak in terms of the NVFFA prevails over any prohibition in any other law on cutting, disturbance, damage, destruction or removal of any plant or tree, except that the owner must - 

where possible transplant any protected plant or tree;
where safe and feasible postion firebreak to avoid any protected plant or tree.
The WFPA rules state:
All members are responsible for the creation of firebreaks and must comply with the prescriptions of the firebreaks as in Integrated Fire Management Plan.

Strategic belts minimum 20m (eg. continuous firebreak between mountains and agricultural lands or houses)
Tactical/Property boundaries minimum 10m (5m each side)
Tracer belts for controlled burns minimum 3m or 3 x average height of adjoining vegetation (whichever is the greater). 

NB. Where there is a chance of soil erosion breaks should be mowed or brush cut with vegetation not exceeding 10cm (ankle height), and brush being broad spread at least 3m from nearest edge of break.
Firebreak agreements
For the purpose of formalising the moving of common firebreaks away from the boundary, the WFPA has drawn up a template for agreements ()
---
PPE (Personal Protective Equipment)
---
Please see the for the amounts recommended for each property size. 
Water pumpers

Bakkie Sakkie minimum 200 lt (vehicle or trailer mounted)
Water Trailer minimum 1000  lt
Water Tanker minimum 2000 lt
Also useful are agricultural spray carts (spuitkarre)

Hand tools

Rake Hoes
Beaters
Knapsacks Min 15 lt
Drip Torch
Also useful are hoes, slashers, spades, polaskis, hand saws, chain saws, backpack blowers

Communication

Cell phone
Hand Held Two-Way Radio
Mobile Radio

First Aid Kit

Including items for general wound care, burns, dehydration, eye drops
---
Specifications for Cape Winelands Fire Services
Refilling points for Water Tankers

Signage and/or easily available map
Standard fire hydrants next to farm buildings (Instantaneous not Storz coupling)
Not from overhead (tankers are over 4m tall)
min 5000 Litres water supply with 2-4 bar constant pressure
65mm (F) Instantaneous coupling (standard fire hydrant fitting in Winelands)

Hoses & Couplings

65mm layflat fire hose with Instantaneous couplings
45mm layflat fire hose with Instantaneous couplings
25mm layflat or rubber high pressure fire hose with Geka couplings
---
How to modify your pipes to fit
Fire hydrant

Instead of using a submerged hydrant, connect a standing pipe to height of 1m above ground.

Overhead filling point

Connect a "T" with shut off valve into the vertical pipe

Adapters for standard agricultural piping to 65mm (F) Instantaneous coupling 

Adaptor for BSP eg. 65 (F) Inst x 50 (M) BSP
use a piece of layflat hose between couplings
see pictures for more options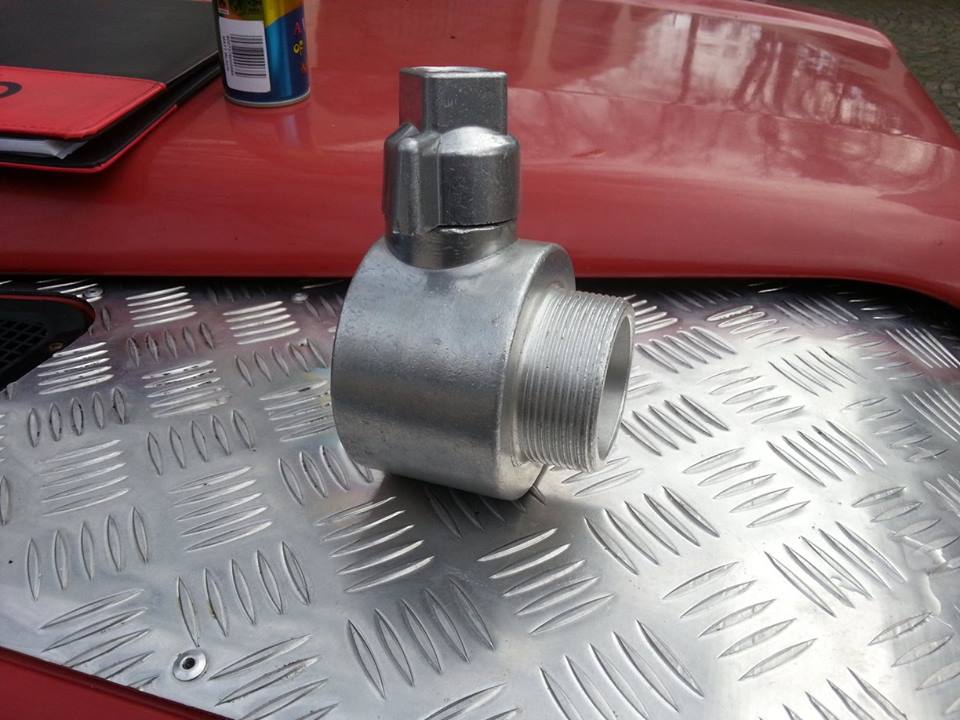 ---
Most local Co-ops (KaapAgri or similar) stock or can order a lot of the required equipment and PPE.

We have a supplier based in Stellenbosch with good quality equipment and very good knowledge of the requirements for equipment in the Western Cape veldfire conditions. They also supply PPE (organge shirt, navy pants with relective stripe, wildland fire boots, flashhoods and goggles).

What is important to note when buying PPE?
cloths are nomex or 100% cotton thicker than 290g/m2
industry standard boot in Western Cape is the Bova Wildland Boot
any welding gloves or welding boots are sufficient
---
Below is a list of the different training courses offered through the WFPA. We will arrange a number of these courses through the winter months (May-September) and encourage our members to book their places early. If any member or group of members can fill a course they can book without waiting for other arranged courses.
Dates: Winter. If you have a full number of participants you can set your own dates
Venue: Any suitable room with sufficient seating, ablutions, plug points and projector screen.
Language: English and/or Afrikaans (isiXhosa also available for the Basic Firefighting).
Cost: on request. Variable depending on number of participants. To be paid per person confirmed as booked on a specific course. Discount if accomodation is provided for trainer.
Accredited training: tax deductible off the skills levy.
Enquires: info@winelandsfpa.co.za
We are now taking enquiries for prices and dates for 2019.
---
Basic Firefighting Veld and Forest Fires
Length: 2 day course 

or 1 day course (refresher)

Accredited: SETA  (including exam)
Group size: 15-25
Target group: Any farm workers, fire teams, farm management.

No experience or literacy required.

Description: Understanding fire, basic fire terminology and behaviour, fire line safety, mop-up procedures, practical with fire tools and equipment.
Similar courses: please note that shorter courses offered by other training providers are most likely not accredited.
Initial Attack Fireboss
Length: 3 day course (including exam)
Accredited: SETA
Group size: 8-10
Target group: Ward leader, FMU chairmen and farm managers.

Firefighting experience required.
Basic Firefighter course required.

Description: More in depth fire behaviour, planning and leadership training for initial attack, ie. taking command of the fire and all responding resources until the fire services arrive and take over.
Controlled Burning (Advanced Planning) Course
Length: 3 day course (including block burn if weather permits)
Accredited: SETA
Group size: 8-10
Target group: Farm managers, fire crew leaders.

Firefighting experience required.
Basic Firefighter course required.

Description: Planning, preparing and executing a controlled burn.
Fire Simulation - Wildfire Incident Action Planning
Length: 1 day
Accredited: SETA
Group size: 10-15
Target group: Ward leaders, FMU chairmen, Farm managers

Fire Boss or IC Type 5 course required
or a ICS Section Leader or Command staff course required

Description: Class room simulation of an incident with persons filling roles of a Incident Management Team
Introduction to Incident Command Systems (ICS)
Length: half day course or shorter if required (presented by WFPA)
Group size: 10 or more
Target group: Ward leaders, FMU chairmen and farm managers.
Description: Basic concepts of ICS (the management structure used by the Fire services) to understand, communicate and integrate better at fires.